The 12th Annual Umali Awards
"'Person Other Than Sarah' In Effect"

The 12th Annual Umali Awards, celebrating the Year 2012, took place on May 18, 2013 at Imagination Giants in the Riverwest neighborhood of Milwaukee, Wisconsin.
Ashley, Lara, and Tim are the people running Imagination Giants: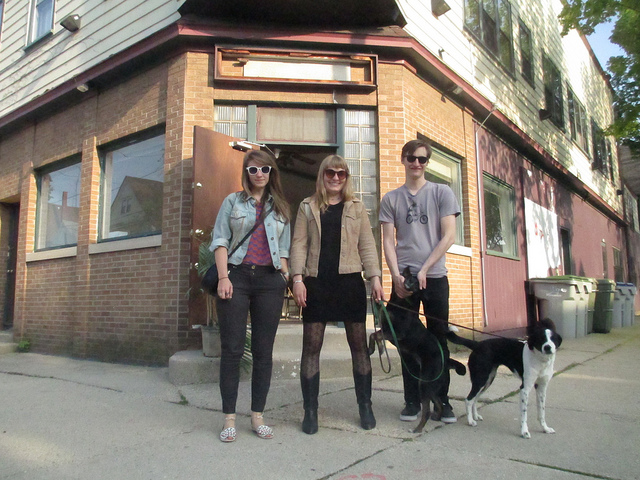 The weather cooperated. In the rainiest spring in memory, the day was sunny and warm. People looked great. The script was well-delivered and well-received, much to the relief of the beleaguered writers, who actually struggled to put in some pop culture references. Most of those references revolved around the book series and television show Game Of Thrones. My favorite of these references was when the overused line "panties in a bunch" was replaced with "small clothes in a bunch."
In a day of highlights, I was delighted that Mike Mikulay's beer - an English Mild he called "The Least Consumed Beer" - was such a hit. Mike is no ordinary home brewer. He's also well on his way to be a certified beer judge.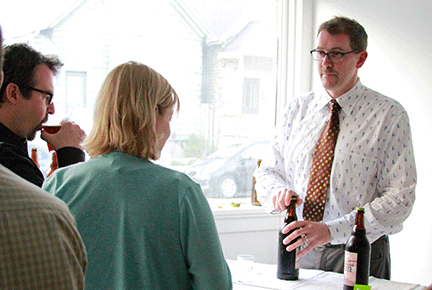 A bunch of thoughts about this show are on this blog post. The thoughts revolve around the last-minute directive to the writers: Answer the question "Why have the Awards in an art gallery?" The producers scoffed at the question, thinking it self-evident, but the writers went ahead and concealed the answers throughout the script.
The Top DIWITTY Earners of 2012:
In the ceremony, we celebrated DIWITTY-POTS (Days In Which I Talked To You, Person Other Than Sarah*). This shows the traditional DIWITTY list. Following the guidelines for ties, there are more than 10 people on this list.
9th
8th
7th
6th
5th
4th
3rd
2nd
1st
John Myers
49

Paul Terrien
57
Rachel Graham
61
Steve Wetzel
64
Michelle Oddo
66
Emir Cakaroz
95
Sarah Buccheri
101
Sarah Burgundy
354
Carl Bogner
Joe Riepenhoff
Gary Williams
48 DIWITTYs
* The intent of the modifying phrase "Person Other Than Sarah" refers to one particular Sarah, not all the Sarahs that I know.
A new record was set with 354 DIWITTYs in 2012. The 253 DIWITTY margin of victory is also a new record.
The Top 10 featured two newcomers: Joe and Gary.
---
In a limited edition of 72, we produced a commemorative 4 ounce Taster Glass. These went for $5 and helped defray the cost of the event. There are a few of these left so please contact me if you want one. Attendees were also invited to take one or two of what I called DIWITTY/Rate Calendars. Each very small calendar visualizes a specific person's (or type of person's) DIWITTY count of a particular year as well as the "rate" those days received. I tried to predict who would show up to the ceremony and designed a card for that person.
---
Awards were handed out in the following categories:
Top 10 DIWITTYs, presented by Seth Goodman, Jennifer Geigel, and Renato Umali
How I Liked My Eggs, presented by Naomi Shersty and Frank Straka
Most Consumed Beer, presented by Nicholas Frank and Chuck Stebelton, with haiku by Stephanie Barber
Most Frequented Restaurant, presented by Katie Katchever and Mike Hauser
Best Dining out Experience, presented by Sarah Buccheri and Rhonda Nordstrom
Most Famous Person Spoken To, presented by Ken West
Best Bingo, presented by Eric Ziegeweid
Best Day, presented by Kara Mulrooney and Susan Kerns
The event was photographed by Travis Hale.
---
| | | | |
| --- | --- | --- | --- |
| | | | |
| | | | |
| | | | |
| | | | |
| | | | |
| | | | |
| | | | |
| | | | |
---