The 11th Annual Umali Awards
"This Time With Mead"

The 11th Annual Umali Awards, celebrating the Year 2011, took place on June 9, 2012 at the Green Gallery West in Milwaukee, Wisconsin.
My friend John fixed up a tall glass of Woodford Reserve bourbon on ice, which set me up right to enjoy this show. A few thoughts about this edition are on this blog post. I don't say it outright there, but I'll say it outright here: this show was the best one ever. It showed growth, it had music, it had poetry, there was a program, there were so many unexpected delights inherent in a live performance.
The primary delight was Nicole Johnson's premiere as a singer. While, yes, she has sung before in recorded numbers, most notably in Frankie Latina's Modus Operandi, she has never sung live. We began the night by singing a soulful rendition of "Won't You Be My Neighbor" by Fred Rogers (aka. "Mr. Rogers").
The Top 10 DIWITTY Earners of 2011:
10th
9th
8th
7th
6th
5th
4th
3rd
2nd
1st

Carl Bogner
Keith Medley
John Myers
48 DIWITTYs
Sarah Burgundy set a new record with 343 DIWITTYs in 2011. The margin of victory is also a new record. Meanwhile, Buccheri only needed 103 DIWITTYs to land in 2nd place. A decade ago, 103 DIWITTYs did not get you into the Top 10. DIWITTY Deflation is alive and well.
The Top 10 featured four newcomers: Keith, Rachel, Paul, and Michelle.
---
In a limited edition of 22, we produced a poster called "Turning 40." Contact me directly if you want any of the remaining copies.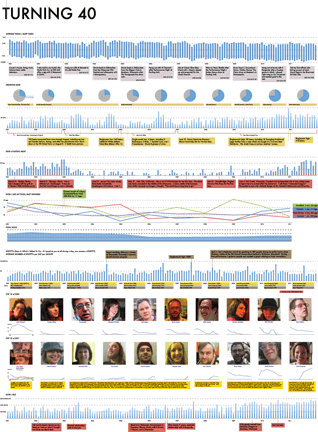 ---
Awards were handed out in the following categories:
Top 10 DIWITTYs, presented by Seth Goodman, Nils Knudsen, and Renato Umali
How I Liked My Eggs, presented by Naomi Shersty and Frank Straka
Most Consumed Beer, presented by Jennifer Geigel and Chuck Stebelton, with haiku by Stephanie Barber
Most Frequented Restaurant, presented by Susan Kerns and Bobby Ciraldo
Best Dining out Experience, presented by Susan Kerns and Bobby Ciraldo
Best Day, presented by Leslie Vaglica and Eric Ziegeweid
The event was photographed by Spencer Chumbley.
---
| | | | |
| --- | --- | --- | --- |
| | | | |
| | | | |
| | | | |
| | | | |
| | | | |
| | | | |
| | | | |
| | | | |
---