The 6th Annual Umali Awards

The 6th Annual Umali Awards, celebrating the Year 2006, took place on August 4, 2007 at the Green Gallery (Milwaukee, Wisconsin).
It was the latest time in the calendar year that I've held the Awards.
The Top 10 DIWITTY Earners of 2006:
I moved out of Buccheri's upper flat in April 29. Goodman remained. Even though I only moved next door, both their DIWITTY totals suffered. This chart shows each of their DARs (DIWITTY Acquisition Rate) before and after April 29: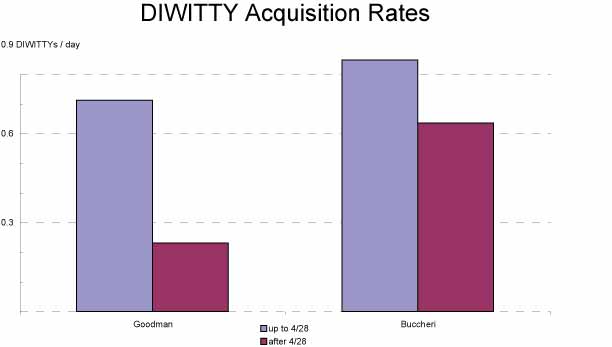 Appearing in the first time in the Top 10 were Burgundy, Hartzell, Courtney, and Riepenhoff. Expect to see Burgundy in later years. I'm dating her.
---
The following categories were recognized:
How I Like My Eggs
Most Consumed Beer
Most Frequented Restaurant
Best Dining out Experience
Most Famous Person Spoken To
---
| | | | |
| --- | --- | --- | --- |
| | | | |
| | | | |
| | | | |
| | | | |
| | | | |
| | | | |
| | | | |
| | | | |
---