The 8th Annual Umali Awards
"STRAKA DEFEATS BUCCHERI"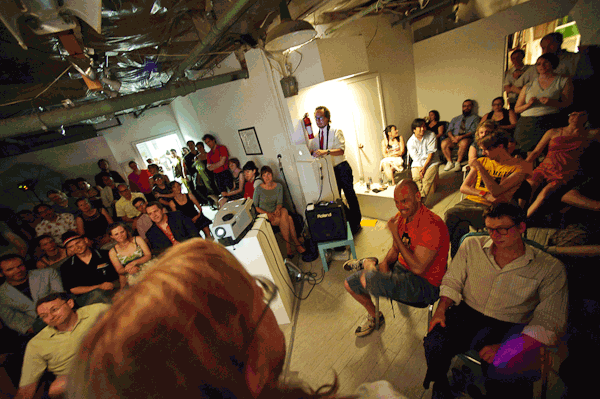 The 8th Annual Umali Awards, celebrating the Year 2008, took place on June 26, 2009 at the Green Gallery East in Milwaukee, Wisconsin.
The show was the usual fun gathering of friends and family. My cousin, Rassi Borneo of TimeLineMedia, documented the event.
The Top 10 DIWITTY Earners of 2008:
Straka unseats Buccheri, ending her stay atop the DIWITTY leaderboard at six years! What a dynasty!
It took only 57 DIWITTYs to make it into the Top 10, re-establishing the phenomenon known (perhaps mistakenly known)as "DIWITTY Deflation."
A "catalogue" was produced in conjunction with the 2008 Umali Awards. You can get yours now, postage paid, for $5. These are 4 1/2" by 5", 16 pages (including the covers), with a few color images. Layout was by Joe Riepenhoff and Cat Pham, and it was printed by the Green Gallery Press in an edition of 100.

The catalogue is filled with charts, graphs, and writing that reflects the awards.
---
The following categories were recognized:
How I Like My Eggs
Most Consumed Beer
Most Frequented Restaurant
Best Dining out Experience
Best Bingo
Most Famous Person Spoken To
---
| | | | |
| --- | --- | --- | --- |
| | | | |
| | | | |
| | | | |
| | | | |
| | | | |
| | | | |
| | | | |
| | | | |
---